Urban Impressions - a photographic exhibition
Next Friday 26th June 2015 at 6 p.m., my first solo exhibition kicks off here in London with aperitifs and free chicchetti, or bites, Venetian-style.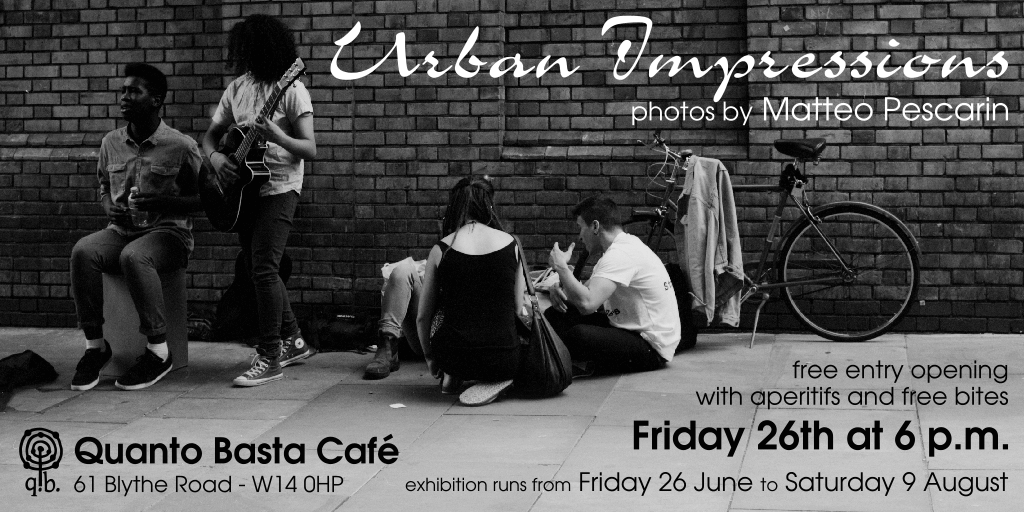 The venue will be at Quanto Basta Café, an Italian restaurant/café located in the hearth of Brook Green, next to Shepherd's Bush and Kensington Olympia.
You can find detailed instructions how to reach the venue using Google Maps.
About the exhibition
The displayed works will be mostly a selection of my last 5 years of research and work in street photography. Most of the photos have been taken in London, with the exception of two of them that have been taken in Holland.
All my works come out of my dear medium format camera. The reason for preferring analog photography in a world that is overrun by digital equipment is due to two fundamental factors: how much more organic the end result is, thanks to the way film captures light, and secondly because it forces me to double think each single shot before pressing the shutter button.
The print process has been kindly provided by two separate labs here in London, one for colour and the other for black and white, using a more traditional printing process.
The selection tries to express with a poetic tone, the emotional distance from our urban environments.
It's hard to say more about it, it's probably better if you can come around and see it for yourself!
If you can't make it for the opening, the exhibition will last until Saturday 9th August and viewable during the café opening hours.